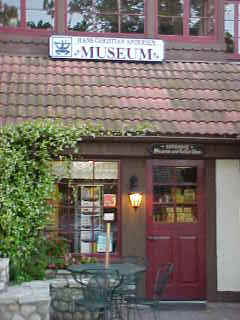 About eight years ago, while living in California, John and I were encouraged by several friends to go visit Solvang, CA. We finally used a Memorial Day holiday weekend to take an overnight trip and ended up eating some great food (best grilled artichokes I've ever eaten) and enjoying a change of pace not too far from home at that time.

I also discovered a tiny Hans Christian Andersen Museum that added an extra level of fun for me as we spent an hour inside, exploring the displays. Most of the displays are of his books from around the world, with beautiful illustrations. There's also photos and other items that give a charming overview of Andersen's life and work.

This little museum was definitely a highlight of the trip for me and I'm not a big HCA fan in comparison to other fairy tale collectors and authors. However, this little museum and then Andersen's bicentennial birthday in 2005 inspired me to add more of his tales to the SurLaLune main site.

There is also a Hans Christian Andersen Park with a statue of the author in the town.

Now most people don't know about Solvang, so I'll add a little from one of the many websites here, this time the City of Solvang site here:


Solvang (Danish for 'sunny field') is a beautiful little city nestled in the Santa Ynez Valley of California. Founded in 1911 by a small group of Danish teachers, Solvang now is a diverse, modern city, with fine restaurants, lovely shops and outstanding activities to enchant young and old alike.

There are Danish festivals, quiet tree lined streets, horse drawn wagons, Hans Christian Andersen Park, windmills, Danish pastries and dozens of quaint shops to explore. Solvang was incorporated as a city on May 1, 1985 and now has a population of approximately 5,555.
The historical town is entertaining and yes, touristy, but not annoyingly so. We enjoyed exploring the shops and getting a little taste of Denmark--especially with the food--without wandering too far from home.